A UX Design internship at F Sharp, a digital music advertising agency that creates music-powered brand experiences on platforms like Spotify, NYTimes, Billboard, and SoundCloud. Here are a few campaigns I worked on.
Sony Music Playlist Analyzer
Role: Wireframes, Copy | Tools: Omnigraffle
A desktop experience for Shakira's upcoming world tour in which users can connect to their Spotify or listen to the official playlist. The analyzer lets the user know how much of a Shakira fan they are based on their music library. They also have a chance to win tickets to the tour.
For this presale, I was responsible for coming up with fun, engaging copy and determining how to fit Sony/Shakira brand imagery alongside with the "fan score" analyzer, while directing users to enter to win tickets and listen to the official Spotify playlist.
Fox Pictures Spotify Disruptive Homepage Takeover
Role: Wireframes, Copywriting, Research | Tools: Omnigraffle
A disruptive HPTO (homepage takeover) for desktop in order to promote Fox Pictures' new release, War for the Planet of the Apes. Users are greeted with a banner ad for the film on their Spotify landing pages, and after they click on 'Join the Fight' a video clip takes over their screen, which then resolves to a page with the trailer and ticket purchase.
I was tasked with coming up with copy and designing an experience that matched the film's tone, all the while driving users to watch the trailer and buy tickets.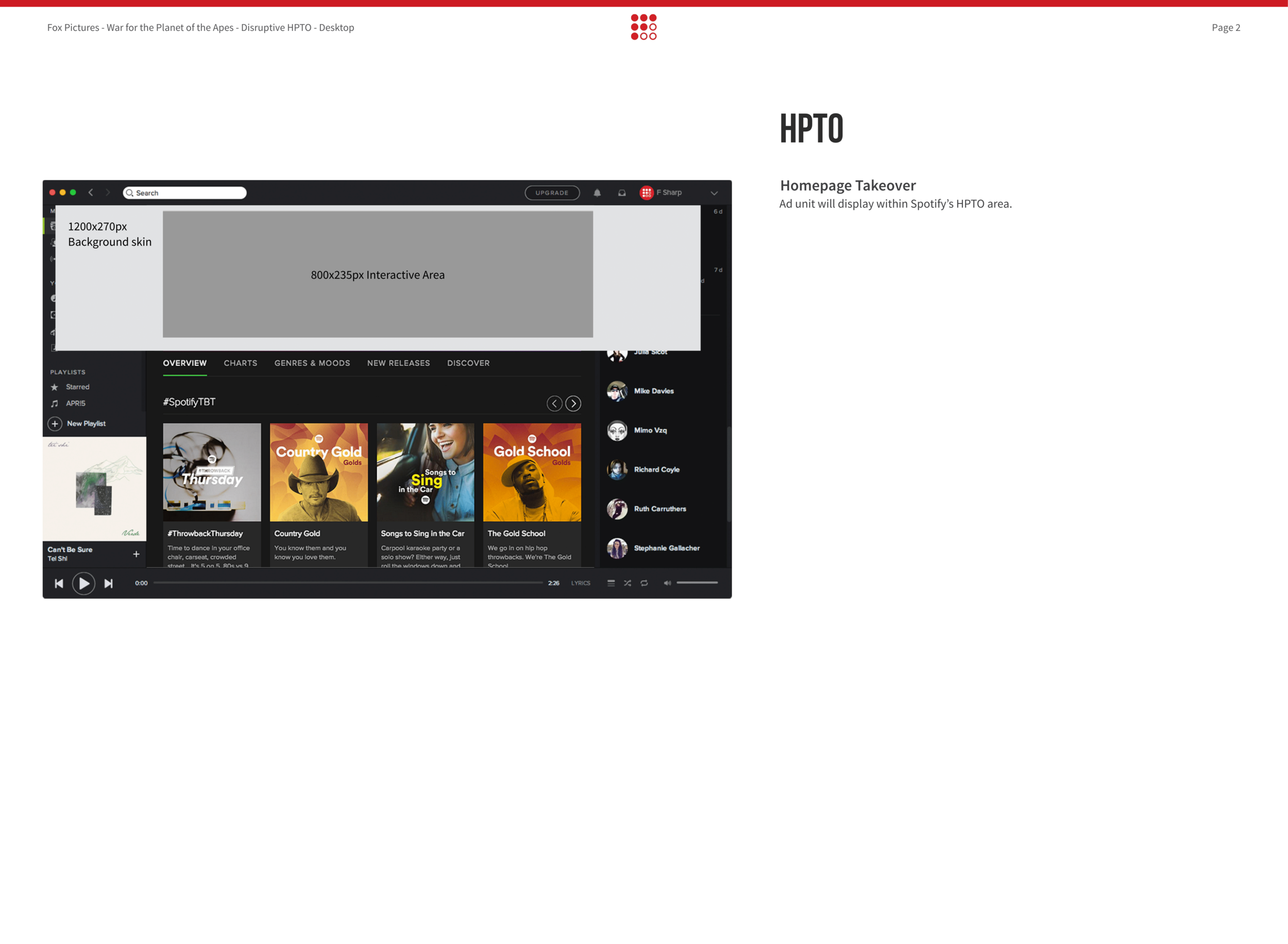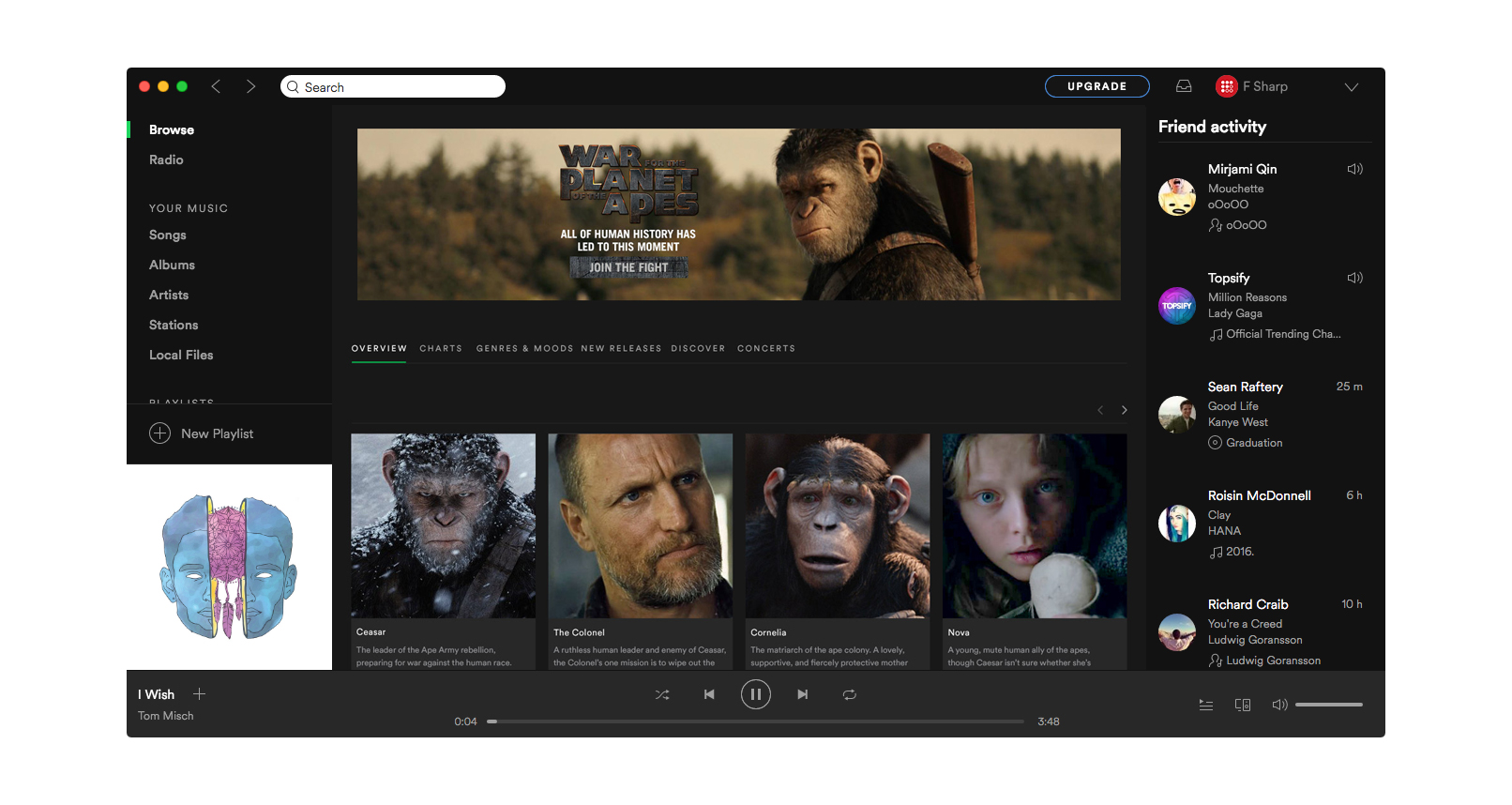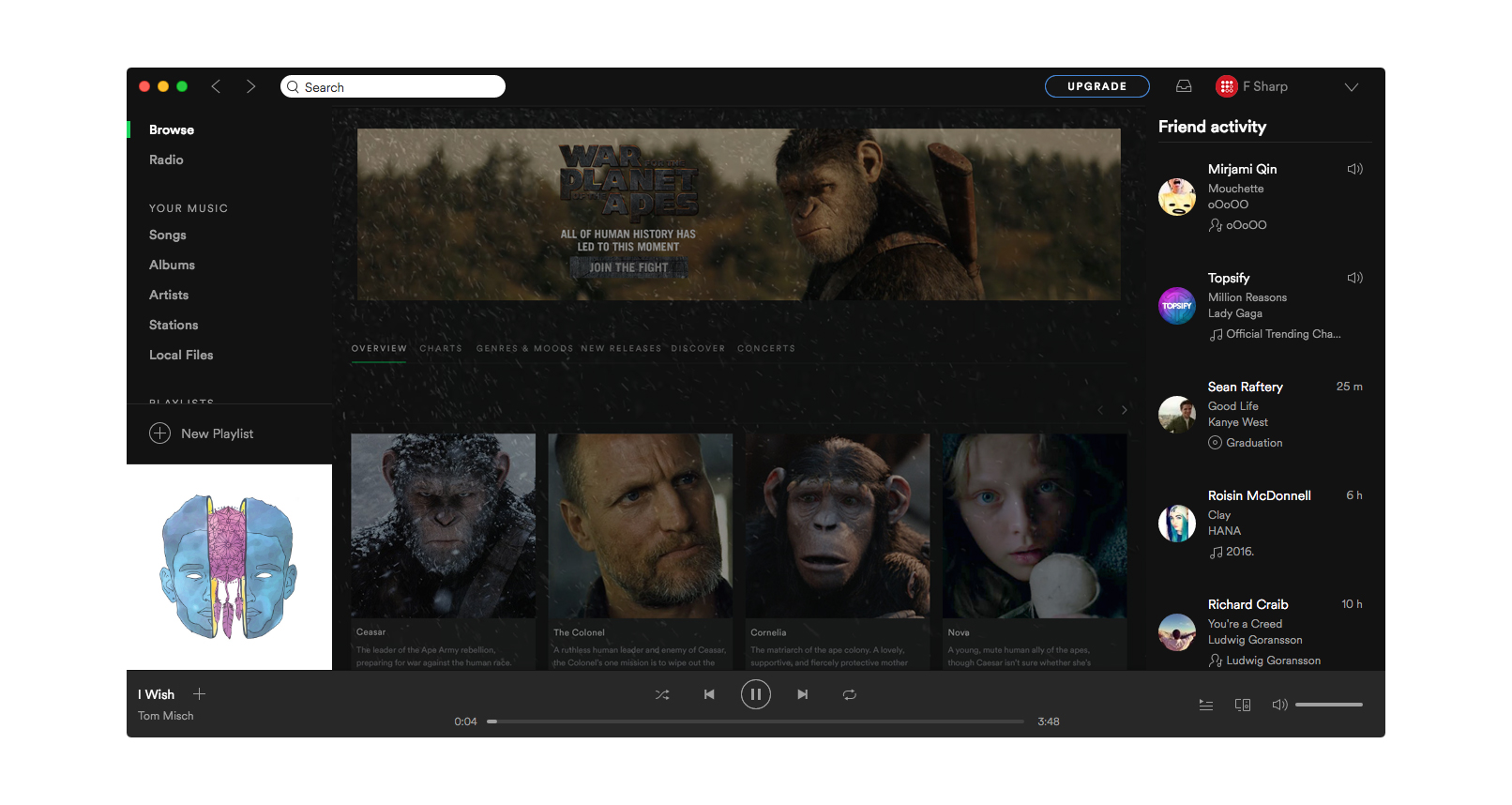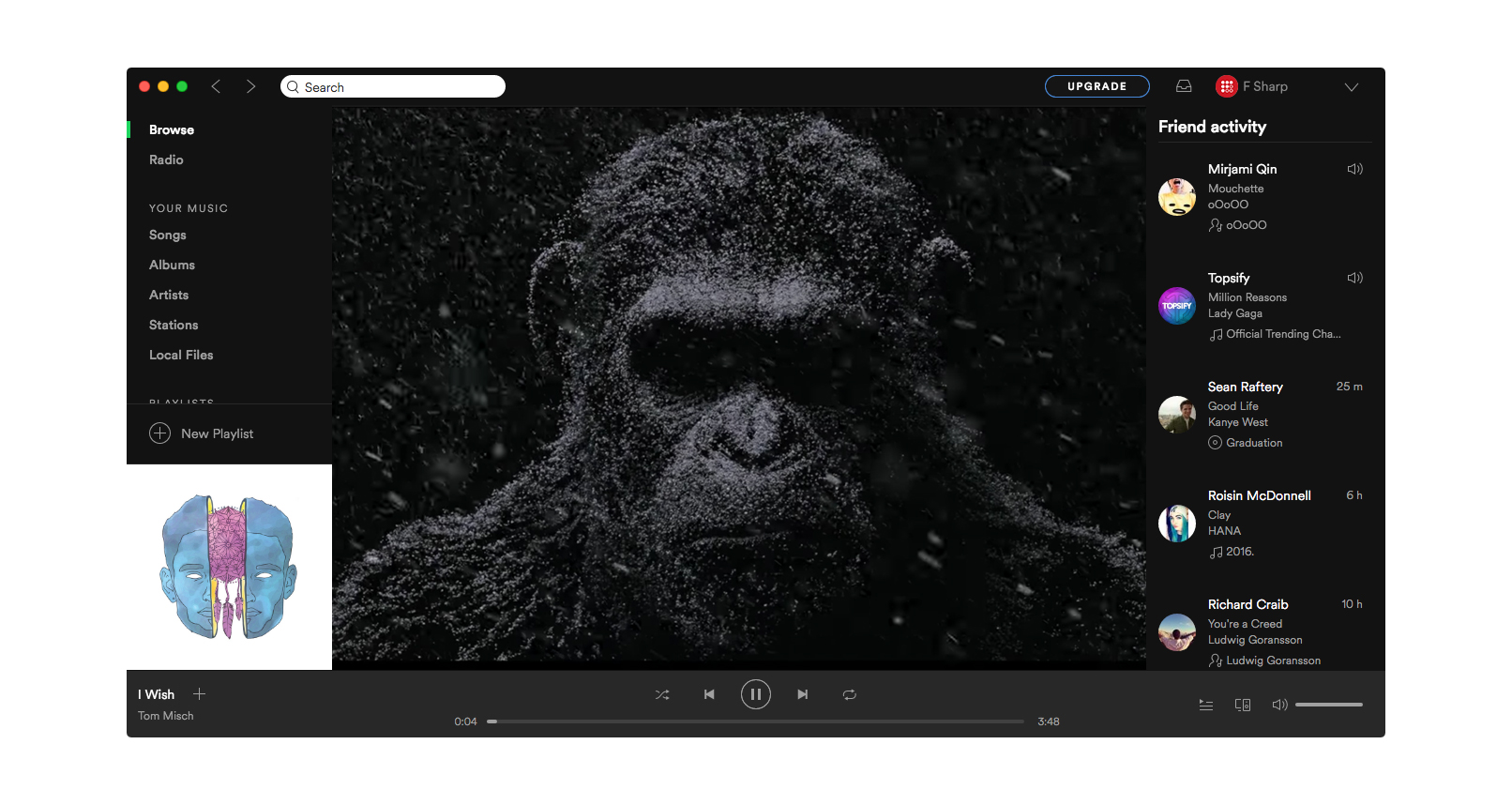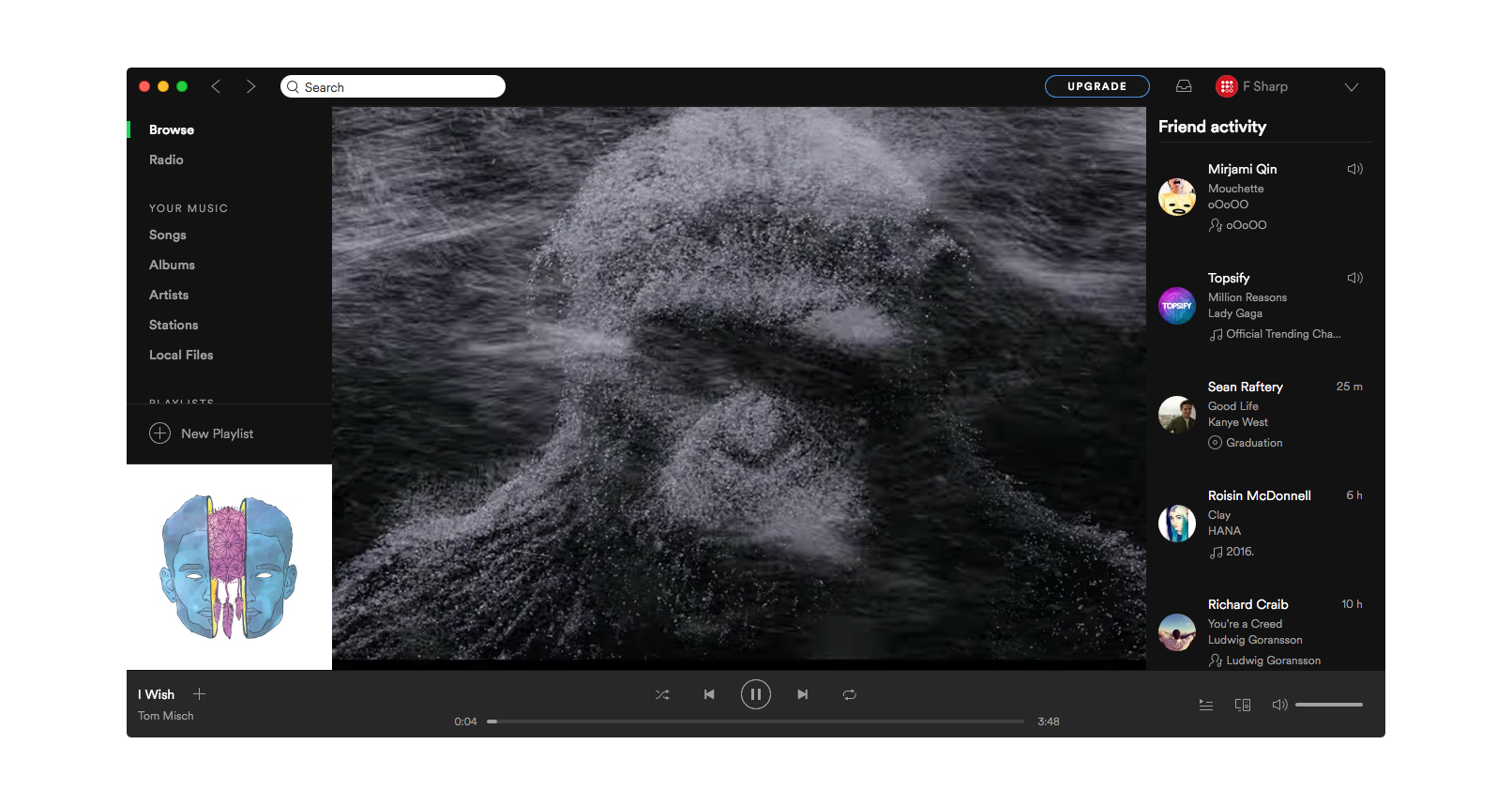 Takeaways
During the few months I had at F Sharp, I vastly improved my skills using tools like Omnigraffle and JIRA, collaborated with project managers and visual designers, learned the ins and outs of how a startup/digital agency functions, and developed an ability to rapidly design engaging, clean ad experiences. If you have any questions about my experience, please feel free to reach out to me at el1889@nyu.edu!